This 5 week adventure has been absolutely amazing. I have learned a lot about a different culture, as well as about myself and my teaching style. I met some amazing new people, got to reunite with an old friend, and work with some amazing new children to help learn to save the world.
My favorite part of this trip was teaching my Zero Waste class. The other English classes I taught were fun arts and crafts; I got to teach the kids a dance, give them feedback on their English and help them with speeches. But I thrived in my Zero Waste class – I had the freedom to just teach whatever I wanted to teach them, and it was related to helping the Earth, which is my favorite. And the students were so engaged and involved and motivated to learn what they could do to help the planet.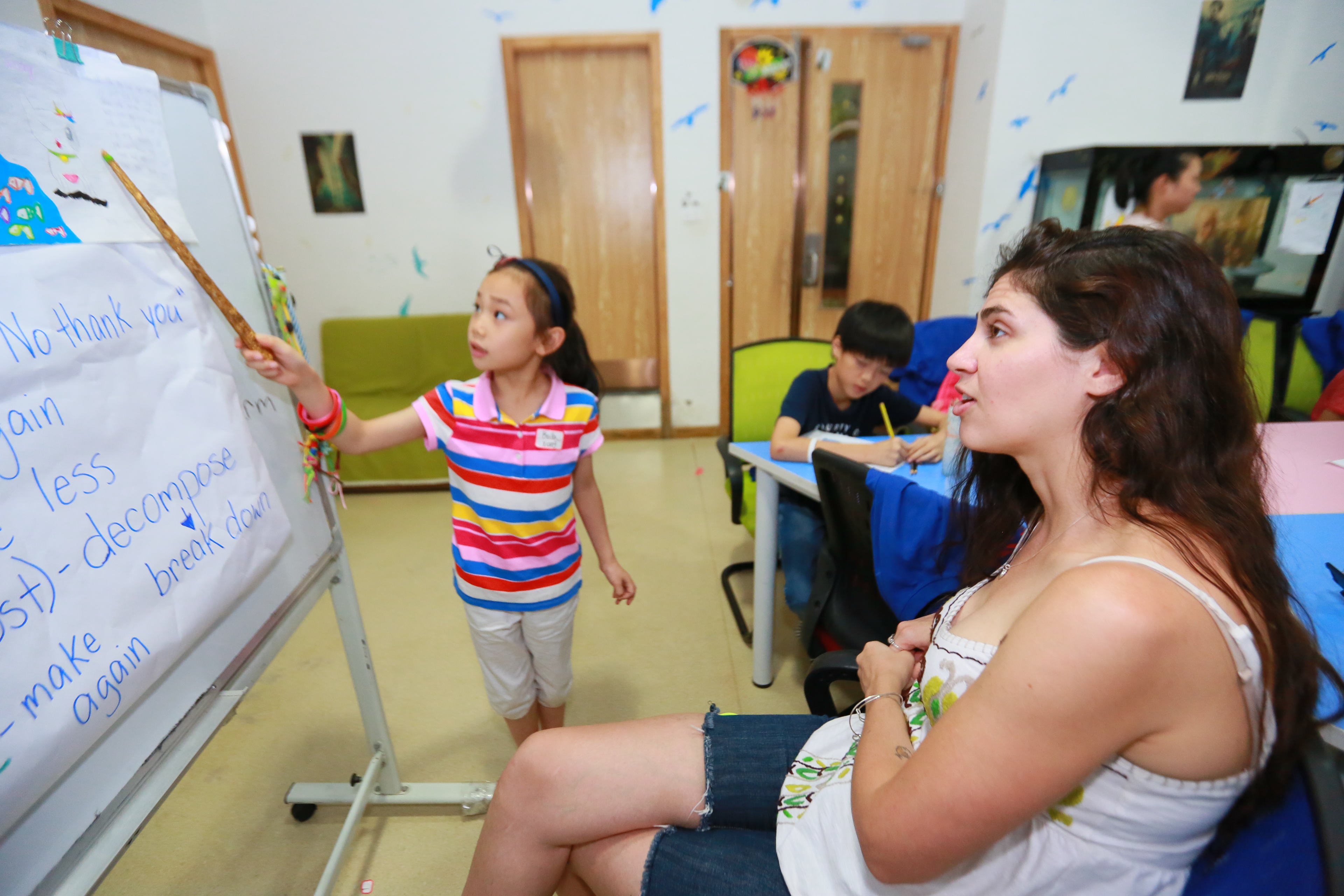 It was invigorating as an educator to be blessed with the group I had, as well as the freedom and trust from the administration to "Take the lead, be creative, and make sure the kids have fun." Having a small class of 6 students enabled me to not only listen and give individualized attention to each student, but also create individualized assignments and expectations each day when doing a lesson. The class project ended up being a huge success, and I am so proud of their hard work. But I am more proud of the process – they were the ones who figured out how to keep the statues free-standing, they were the ones collecting water bottles; from classrooms, their houses, and even on the road near school.
One girl even cried because someone threw a box of water bottles she had been saving for our project. As a teacher, all I could do was hug her and say, "Don't worry, it went to the right place. You and me are going to help save the world together." I also gave her a reusable bag, which also made her happy.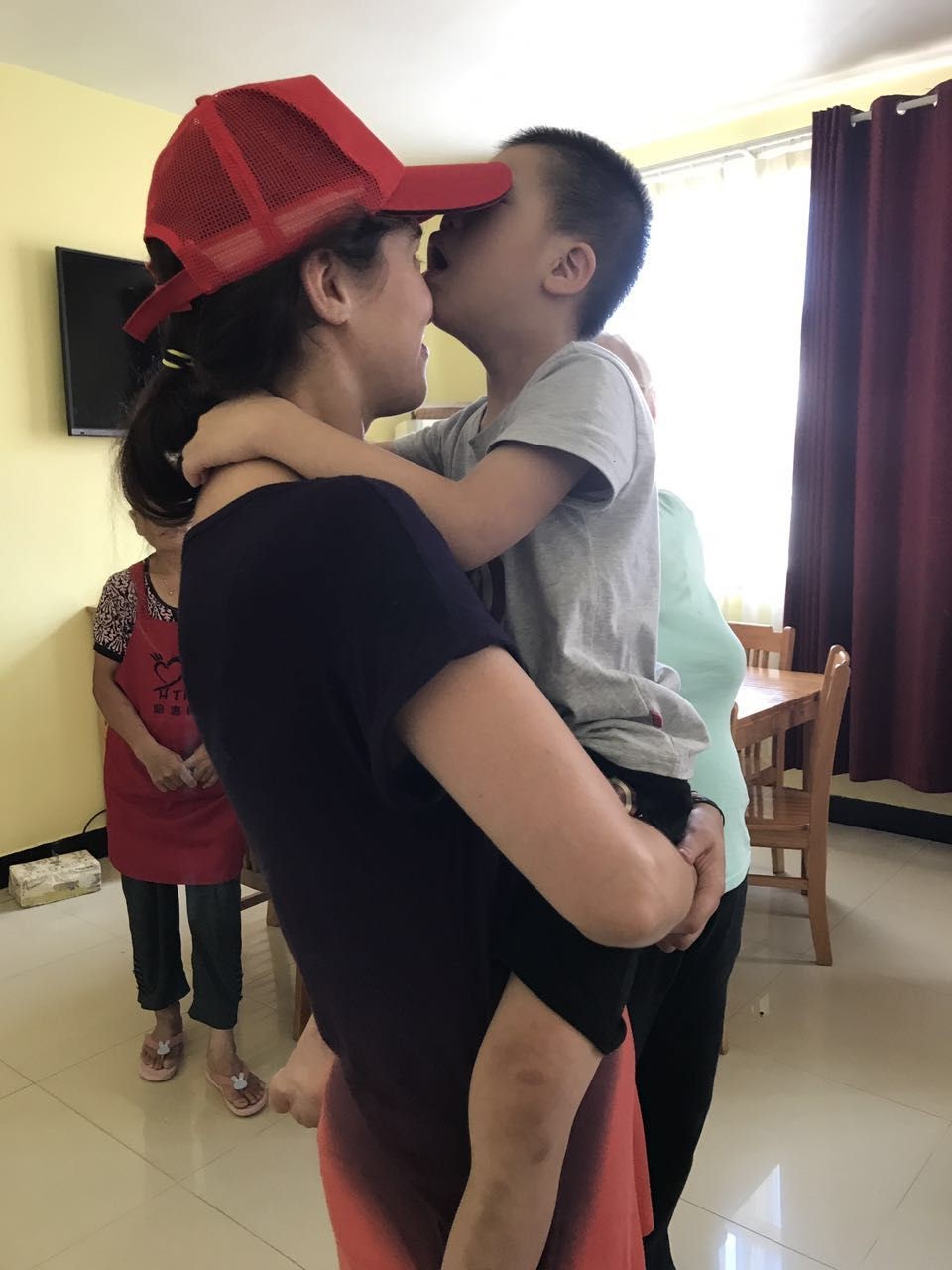 Another favorite part of this trip was my 24 hour visit to Hidden Treasures House, which is an orphanage for children with special needs. It is in a village called Shang Di, and it is run by some beautiful people who have hearts of gold. Kids who are born with special needs or physical deformities in China are usually just thrown out, left to die on the side of the road. People in China do not see them as gifts, and when parents have a limited number of kids they can have – until 2 or 3 years ago, you could only have 1 child in China (it is now 2) – they make sure the children who are in their family are 'normal.'
Hidden Treasures takes in the kids the state orphanages (which are poorly run) do not want. People even leave their children at the gate to take in and be saved by the HTH family. My school, DT Club, is kind enough to purchase items the school needs, and it was great for my expertise to be valued so highly that they paid for me to travel there and asses the sensory items that could benefit the school. As soon as I walked through the doors of Hidden Treasures (and saw their sacred tree!), I knew that I was going to be coming back to Asia.
I also have to say my weekend visit to Shanghai was pretty great. I hadn't seen my friend Isaac in about 4 years, and adventuring with him was so much fun – he is even planning on meeting me in another country, possibly Kenya! It was great to listen to the point of view of someone who grew up in Hong Kong/Shanghai, lived in the USA (for college, and a little time after), and is currently working in and around China. His job is pretty cool, and his family does a lot of outreach and sponsoring of young leaders education – his grandmother even has a school in Shanghai!
I am going to list, in bullet points, a few things I learned on my trip. I continue to raise funds for the rest of my 14 country unpaid sabbatical – to support it, please go here!
There will always be people who are willing to help you.
Immersion in a culture is the best way to learn a new language.
I really like being closer to nature than in a city.
I love teaching, and it is great to learn how to spread environmental awareness to children and other people.
They still allow smoking indoors in China, and it smells really gross.
I love dumplings, specifically meat bou tse.
I thoroughly enjoy using chopsticks to eat large things like chicken, dumplings, as well as salad! For noodles and rice…not so much.
All buildings with a cool pointy roof are Buddhist temples.
People in China will wear anything that has English words on them, and they have no clue what they mean. Seriously – in my school, there was a 9 year old girl that came in one day with a t-shirt that said "Beer Cigarettes Candy", and while walking to the store one day I saw a boy, had to have been like 11 or 12, that had a t-shirt that said HOLY S**T on it.
You don't wear shoes indoors in China – I love it! You can either walk around barefoot, or wear house shoes. But the shoes you wear outside stay by the door, and come off when you enter the school or home.
It is really loud in China cities – not only is there honking of car horns and normal city noises, but there is also automated announcements everywhere. It can be for a tour, a sale at a store, or time left for the crosswalk. I was on sensory OVERLOAD.
There are the upper/middle/lower classes in China, but the gaps between them are drastically different, and separate. The upper class enjoys a wealthy standard of living – they will have one or more apartments, a driver, maybe a chef and nanny. They will also be able to afford the fine of having multiple children. The middle class affords a nice apartment and can enjoy some minimal luxuries. There is no 'level of poverty' here – if you are not upper or middle class, you live in a village, in a 1 or 2 room cement hut/home and work every day to survive.
They don't bury their dead in China anymore – there are too many people and too little space. No one is going to dedicate space for dead people (seriously, who chops down trees to make space for gravestones?), and since everyone in China is cremated, the chemicals used in the cremation process just adds more to the air pollution here.
Summer in China is ridiculously hot – it reached 100-103 degrees Fahrenheit on a regular here. And, after talking with the kids at school, and people who live here, this summer is the hottest it has even been. Hmmm…I WONDER WHY (*cough cough* climate change).
Even though there is a LONG way to go before China gets clean air and water again, the country is doing a lot to become a proactive country in combating climate change. Their people (and government) are embracing, and slowly accepting that they need to, change, which is the first step to actually creating change.
The government in China controls EVERYTHING – land, data, and the cyber world. Every family or business rents from either the government or rich third-party businessman (who has connections with the government). The data on my Air Matters app is government controlled – when I was in Wenzhou, there were days that the Air Matters app said the air quality was good. But when I looked up in the clouds there was definitely smog, so you can hypothesize that some of the data might have been fudged to look better than it was. My friend Isaac suggested I use a different smog app called Plume. They call the government controlled cyberspace "The Great Firewall of China." It was so difficult to access the internet here – midway through my stay in China, the government shut down all VPNs (Virtual Private Networks) so I couldn't access my emails, social media sites, Google account, or anything from my computer. As much as I love living life on airplane mode, I did want to make sure I stay connected to post my vlogs and talk to my mommy and daddy.
ASSIGNMENT: After watching this video, the previous videos, and reading the blogs, write down your "take aways" from China. Would you visit it? What would you want to do, or see? Is there one place, activity, or fact that I shared that stood out for you?
Share this with me on my 'comment' section and/or fill out this survey here.